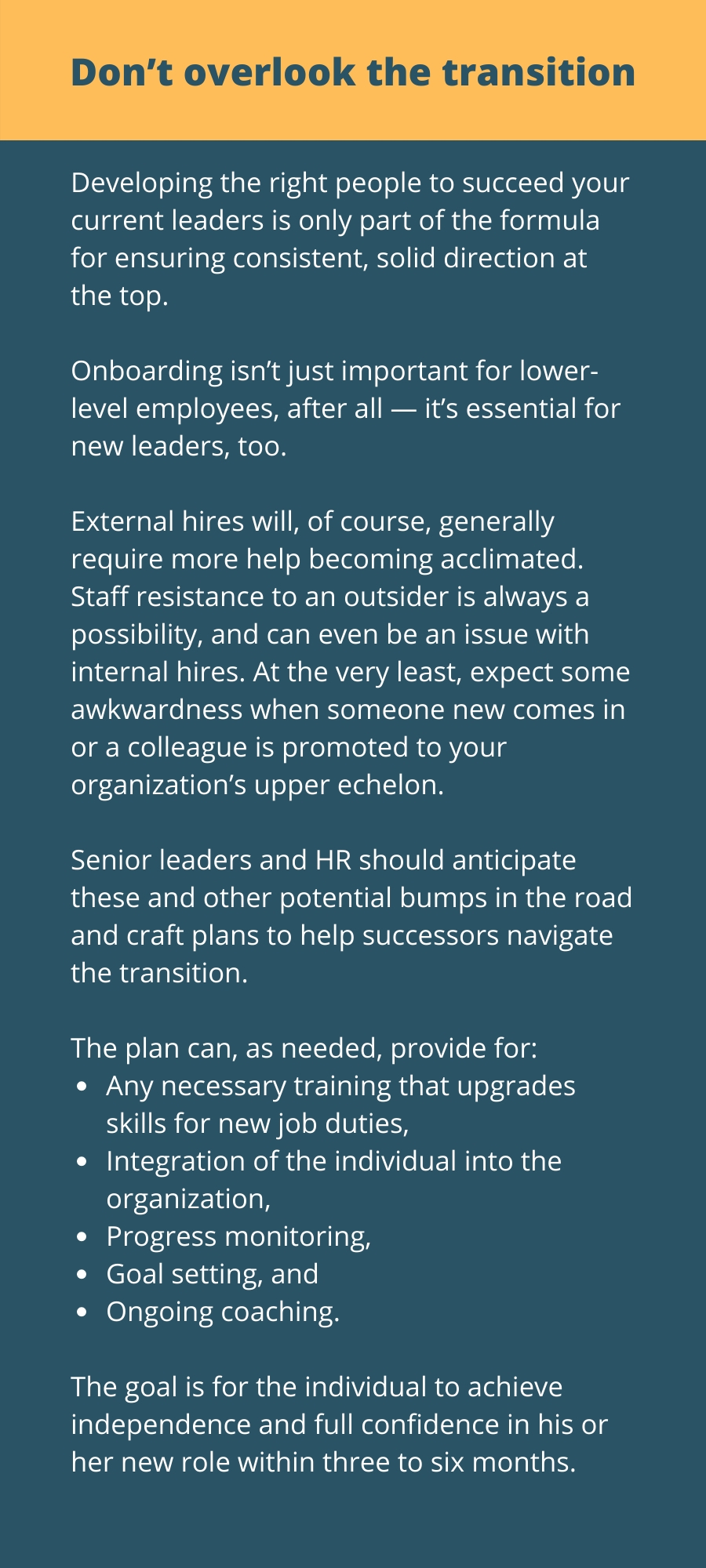 When a senior leader leaves a nonprofit, it can affect every aspect of the organization. Whether the departure is planned, such as a retirement, or is unexpected due to a resignation, termination or death, you should have a plan to reduce disruption and ensure continuity.
Succession planning is perhaps more important than ever in a tight job market. Vacancies often become difficult to fill, especially for demanding, high-ranking positions. Here's how to put together a solid succession plan for your organization.
Focus on the right positions
Don't limit succession planning to the executive director (ED) position. Your plan should include every employee who's considered indispensable and difficult to replace due to experience, institutional knowledge or other characteristics. Whose departure would have the most significant consequence for your organization and its strategic plans?
When you look at it that way, you can see that succession planning often should be broader than first considered. In addition to the ED, you might need to develop plans for high-level staff (for example, the development director) and even board members.
Determine the requisite qualifications
This step calls for more than simply reviewing or updating job descriptions. Successors must have the requisite qualifications to carry out your organization's short- and long-term strategic plans and goals, which their job descriptions might not reflect.
HR experts emphasize that succession planning should take a forward-looking perspective. The current jobholder's experience and qualifications are only a starting point. What worked for the last 10 or 20 years might not cut it for the next 10 or 20.
Identify appropriate candidates
When the time comes, many organizations publicize open positions and invite external candidates to apply. However, it's easier (and often advantageous) to groom internal candidates before the need arises. To do so, you'll want to identify your "high potential" (HiPo) employees — those with the ambition, motivation and ability to move up substantially in your organization.
Assess your staff using performance evaluations, discussions about career plans and other tools to determine who can assume greater responsibility now, in a year or in several years. You may discover HiPos in lower-ranking positions, so look beyond the director or manager level.
Develop individual action plans
Once you've identified potential internal candidates, it's time to develop individual plans for each to follow. Consider your organization's needs and plans, as well as each candidate's personality and learning style.
An action plan should include multiple components, such as job shadowing. This will give you a good sense of how a person would fill the position under consideration. It also can provide opportunities such as leadership roles on special projects, training, and mentoring and coaching. Share your vision for the person's future to ensure common goals. You can update action plans as your organization and employees' needs evolve.
If such an action plan seems like overkill, understand that it'll prepare candidates in a way that makes futures transitions less rocky and risky. Formal development plans also are likely to boost your recruitment and retention. But avoid leaving HiPos in holding patterns. If they don't receive timely promotions or other growth opportunities, they may pack up their skills and qualifications and leave.
Publicize the plan
Succession planning isn't something to keep under wraps. You won't receive the recruitment and retention benefits if people don't know you have formal plans for nurturing talent.
You'll also want to share the plan's existence with stakeholders, such as grant makers and major donors. They'll appreciate the assurance that you're prepared and are unlikely to end up knocked off course by a significant departure.
Embracing change
A leader's departure often raises concerns about falling morale, productivity and funding, but change doesn't have to be negative. When an organization is properly prepared, leadership change can be positive, garnering accolades and higher donations. It can also be a good time to examine priorities and realign some job responsibilities.