QuickBooks Online is a useful tool for the management of nonprofit finances. Sechler Morgan is here to help you navigate this software with regular in-person and online trainings. Here are our upcoming trainings:
QuickBooks Online for Nonprofits – Intermediate Level 
 January 10, 2019, 10 AM-12 PM | Register here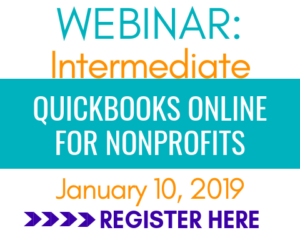 This webinar is geared toward the needs of nonprofit organizations, and focuses on those QuickBooks Online users who know the basics and want to learn how to use some of the additional features of the software.
We bring years of understanding of the unique aspects only found in nonprofit accounting to help you save time, improve outcomes, and reduce mistakes. This webinar will cover advanced features of the QuickBooks Online Edition, including:
– QBO setup,
– merging and consolidating accounts, vendors or customers,
– use of location and class tracking, and
– report filtering.
Purchase the webinar only, or purchase the webinar + recording to receive a link to the full webinar recording for reference at a later date. Sechler Morgan clients receive a hefty discount!
View additional training opportunities on our Community Calendar