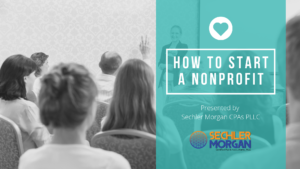 Join us to learn the ins and outs of nonprofit startups!
Want to start a nonprofit organization? Congratulations! Starting a nonprofit can be very rewarding​ as long as you follow the right path. Join us for our monthly session on How to Start a Nonprofit with a member of the Sechler Morgan team. We will provide you with the step-by-step run down of nonprofit startups so you can begin sharing your mission with the community.  This session is FREE.
Upcoming Sessions
No sessions scheduled – stay tuned!
View additional training opportunities on our Community Calendar